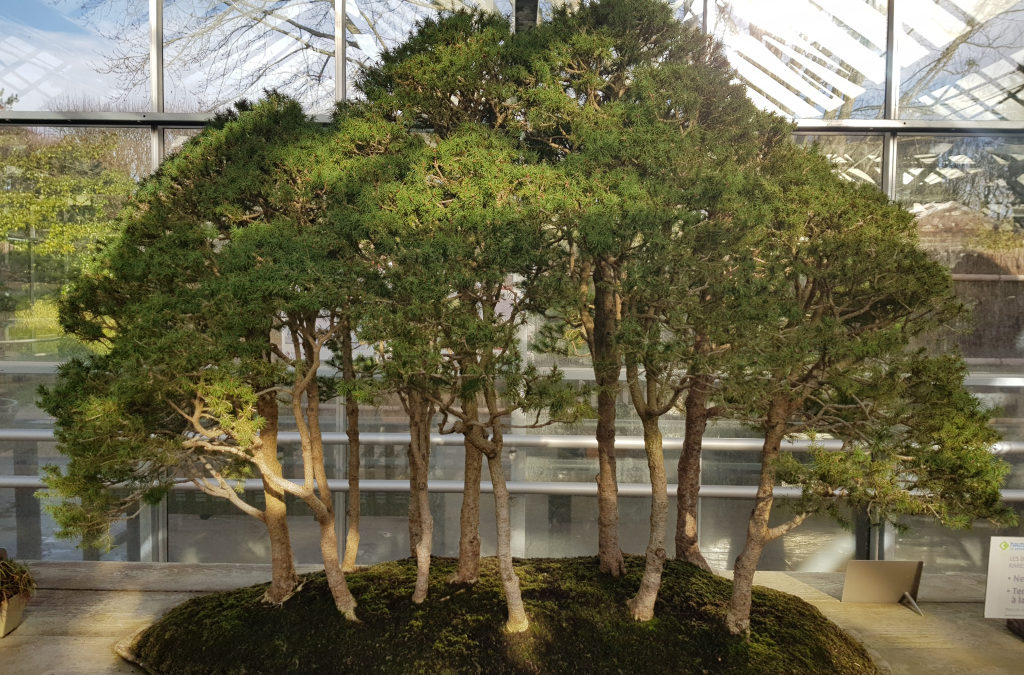 Visit to the Vallée-aux-Loups' Bonsai Greenhouses
In the third week of an intensive 4-week floral course for a Paris School of Florists' Adult Training session, the group of 19 took a trip to the bonsai greenhouses of the Vallée-aux-Loups in Châtenay-Malabry, where they were greeted by the century-old evergreen below:
After this wowing experience, they soon reached the bonsai greenhouses, where more awesome treasures awaited them . The first stop was in the temperate greenhouse to learn about the history, the background, and the stories related to these age-old bonsais or "penjing" for the Chinese, originators of this ancient art.
Enlightenment from bonsai guide Eric

26 to 42-year old white spruce

24 to 46-year old white spruce

17 to 32-year old Japanese cedar
It was then time to visit the tropical greenhouse, where they were instructed about repotting, watering, care, and maintenance of these precious miniature landscapes.
346-year old Chinese hackberry

166-year old Chinese banyan

176-year old Chinese bayan

196-year old Chinese banyan
The ideal time to visit the park, which is walking distance from the RER B Robinson stop, is in spring to appreciate all of its attractions. You can check it out at:
102 rue de Chateaubriand
92290 CHATENAY-MALABRY
maison-de-chateaubriand.hauts-de-seine.fr
For the bonsai visits call: 01 49 73 20 63 for information or 01 41 13 03 83 for reservations for a free guided tour